Overview of Services
The Center for Medical Genomics (CMG) at Indiana University School of Medicine is a state-of-the-art technology center that provides medical scientists with affordable access to high quality high-throughput genomics services. The Center is equipped with a variety of advanced genomics technologies, including next-generation sequencing, single-cell genomics and high-throughput SNP (single-nucleotide polymorphism) genotyping instrumentation.
Services: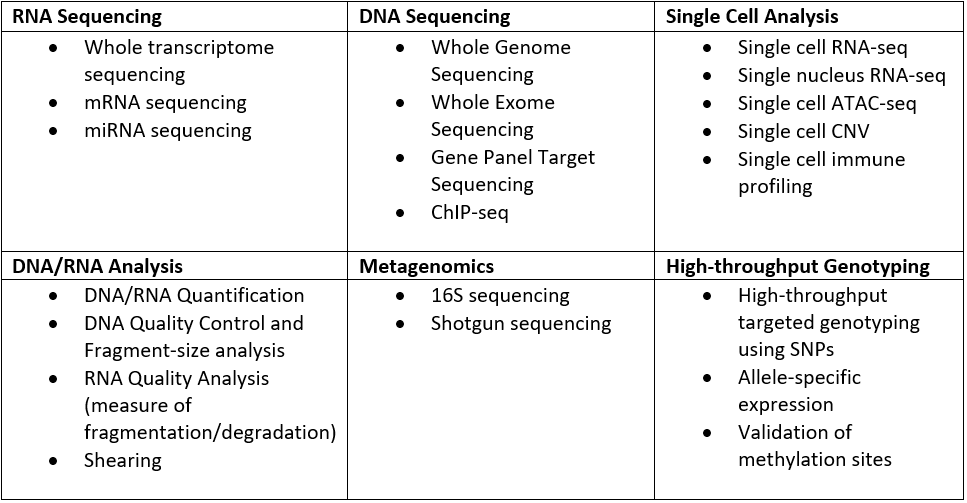 To request additional information about our services, please contact Ms. Maks Luthra at maluthra@iu.edu.
Leadership
Director – Dr. Yunlong Liu
Professor of Medical & Molecular Genetics, Biostatistics, and BioHealth Informatics
T.K. Li Chair of Medical Research
Director, Center for Medical Genomics (CMG)
Director, Center for Computational Biology and Bioinformatics (CCBB)

Associate Director for Laboratory Operations – Dr. Fang Fang
Assistant Scientist in Medical & Molecular Genetics

Associate Director for Bioinformatics Support – Dr. Hongyu Gao
Assistant Scientist in Medical & Molecular Genetics
Locations and Hours of Operation
Hours
Location

Monday - Friday
8:00 am - 4:30 pm

980 W Walnut St, Room C417
Indianapolis, IN 46202
Hours
Location

320 W. 15th Street, NB Bldg, Rm 103
Indianapolis, IN 46202
Links and Resources